The benefits of Ajwa Medina therapeutic on the human body
Created Date: 10 Mar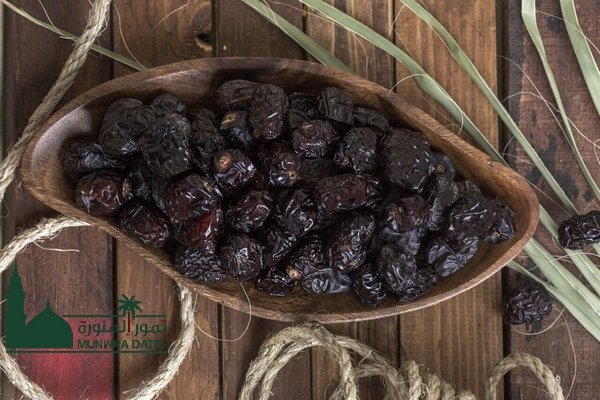 The benefits of Ajwa Al-Madinah are beneficial to the health of the human body because it contains a huge proportion of calcium, magnesium and zinc, which strengthens the immune system in the body.
Madinah Ajwa dates are characterized by a circle shape, dark black color and distinctive taste, and it is considered one of the best and finest types of dates that pilgrims search for during the Hajj season, which we provide.
Madinah Ajwa dates are considered one of the best types of dates in the world due to its great nutritional value as it also contains vitamins, starches and other beneficial elements.
And scientific studies have proven that the benefits of Ajwa Al Madinah give your body health and protect against diseases, especially as it is harvested from palm farms near the civil campus.
The quality of dates in the store
Madinah dates are the products of Al Madinah Dates farms, factories and exhibitions.
There are simple products from some other types of dates.
Benefits of Ajwa Medina
Reduces tooth decay as it contains fluorine.
Reducing cholesterol in the blood.
Al Madinah Ajwa Dates are rich in iron and treats anemia.
Hair loss treatment.
An effective natural remedy for anorexia.
For a pregnant woman, one of the benefits of Ajwa al-Madinah is to facilitate her in childbirth.
Prevention of atherosclerosis.
It reduces the accumulation of toxins in the body.
Reducing the constriction of blood vessels.
Protects against premature aging.
One of the benefits of Ajwa Al Madina is the treatment of fatigue in the eyes.
Helps the body to grow properly.
Prevent some diseases.
Shortness of breath is treated.
Helps prevent gallstones.
Treat skin and lips infections.
Treat impotence.
One of the benefits of Ajwa Al Madina is that it reduces the incidence of various cancers.
Treat general weakness in the body.
Treat osteomalacia and rickets.
Memory enhances.
Prevent hemorrhoid.
Other benefits of Ajwa Medina
Rid the body of worms and germs.
Treating liver disease, and doctors advise to take it daily, and this is one of the most benefits of Ajwa Al Madinah therapeutic.
A special treatment for cholera, because it contains tannin.
Prevent hemorrhoids because they contain fast-dissolving fibers.
One of the benefits of Ajwa al-Madina is that it treats rheumatism because it contains boron.
Contributes to the treatment of dry skin and dry cornea.
It has a magical effect on eliminating heartburn.
It treats many diseases of the digestive system.